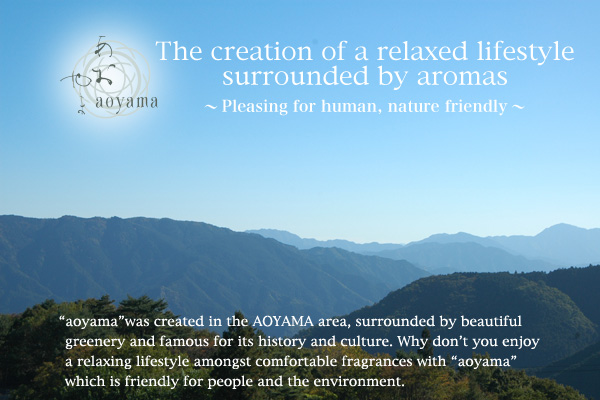 "aoyama"contains many plant extracts and aromas from AOYAMA region and AOYAMA resort

5 types of "aoyama" original Fragrances

○Fragrance of Lavender that colors the highlands violet
  Formulated natural fragrance of Lavender

○Fragrance of Camomile representing an image of the sun
  Formulated natural fragrance of Camomile

○Fragrance of Moon Flower blooming on a summer night
  The fragrance of Moon Flower is reproduced by a natural space method

○Fresh and sweet fragrance of Mandarin Orange
  The fragrance of Mandarin Orange is reproduced by a natural space method

○Mild and chic fragrance of Japanese Citrus
  Formulated natural fragrance of Japanese Citrus

Natural Space Method
The technique which does not damage the flowers, take their fragrances and analyzes them enabled us to replicate the fragrances environmentally friendly. This method is very effective one which can replicate the natural fragrances.





Use of SPA ingredients of KIRYU hot spring in AOYAMA resort.





| | |
| --- | --- |
| Packages for "aoyama" are designed with various wisdom and ideas derived from the history and culture of the AOYAMA area. IGA, located in the AOYAMA area, is famous for "braiding," and the "aoyama" brand logo shows the process of forming braid. It also represents a symmetrical, deep-rooted flower and resembles a Japanese family crest. | |




"aoyama" is designed under the themes of "gentleness" and "Japan".
The soft and gentle base color of ivory recreates the warmth of nature and their designs are in perfect harmony with natural wooden interior furniture, as well as white-based bathrooms and bedrooms.

Labels made of Japanese paper add traditional Japanese beauty to designs, just like OBI bands and two-tone paper cords. Natural, modern, Japanese-spirited designs create a comfortable atmosphere in bathrooms and bedrooms.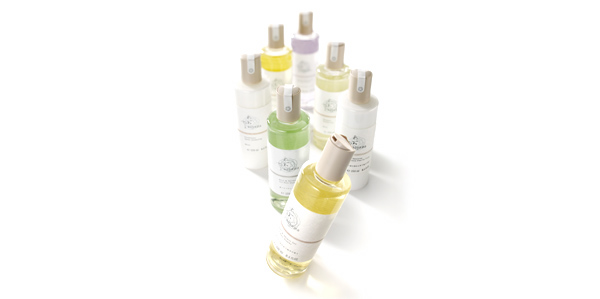 All of the containers we use are designed to be easily opened, easy to keep, and easy to use.




The containers we use are of recyclable PET material and are convenient to use in terms of the separation of waste materials. Environmentally-friendly soy bean ink is used for the printing of labels and brochures. We also save on unnecessary wrapping to reduce waste. Our production process is preservation of the environment oriented.